There are many types of loans available for investment properties.
Conventional loans, which are the type of mortgage that carries the lowest rates require as little as 15% down for single-family investment properties. For 2-4 units you'll have to stretch to 25% down.
For these loans, check the maximum loan size for your county here.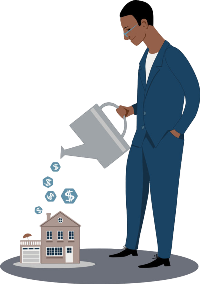 Conventional loans aren't the only types of investor loans available.
One of the most popular loans is the DSCR loan. (Debt Service Coverage Ratio).
As long as your PITI (principal, interest, taxes and insurance) are covered at least 100% by the property's income, your personal income is not taken into account.
These loans are available with 20% down but larger loan amounts (to $2,500,000) require larger down payments.
Summary
With escalating rents, investment property is in high demand. With the broad range of loans available, it is easier than ever to begin investing. You can also refinance investment property you currently own.