You're Ready for a New Home
Start at the beginning. See how much you qualify for.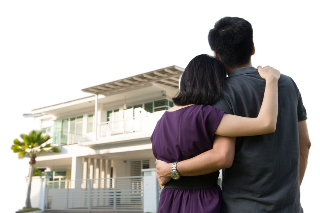 How do you want to get started?
Easily find out how much you qualify for.
Not ready to talk to a mortgage expert? Quickly and easily find out what size loan you qualify for by answering a few questions online.
Talk to Us
Not an online type of person? Book a FREE half-hour phone consultation and we'll answer all your questions. Even those you may not have thought of.
Buying a new home when you already own one, comes with its own set of issues. There are numerous factors to think about.
Whatever your situation, Entertainment Mortgage will guide you to the best solution.
Do you need to sell your current home before purchasing a new one in order to amass a downpayment?
In order to have access to enough money for a downpayment on a new home, many buyers find themselves needing to sell their current home first. If this is your situation, here are some options:
Buying a new home with two loans.
Let's say your purchase price is $1,000,000. Your downpayment can be as little as 10%. You will apply for 2 loans simultaneously, in any combination to 90% of the purchase price, in this case, $900,000. Once your current home is sold, you can pay off the 2nd and be left with just your 1st loan only.
If you have sufficient equity in your current home, you can apply for a 2nd mortgage, using the cash-out as a downpayment on a new home.
Do you need to sell your current residence before buying a new home? Do you qualify for both mortgages at the same time?
This can be a tough and stressful situation. The best way to handle it, of course, is to sell your current home first, then purchase your new one.
The downside is that you have to move twice, more difficult if you have children. The easiest way to do this is to either move in with family or friends (did I say easy?) or find a short-term rental apartment so you will know exactly where you will go once your home is sold. Put most of your household goods into PODS, and they will be ready to move right into your new home when you're ready.
By selling your home first, you'll know exactly how much money you'll have available for a downpayment on a new home. During this time, you can also get an approval for a new mortgage. This way you're ready to go once you have an accepted offer.
If you make a "contingent" offer on a new home before selling your current home, you could be putting yourself in an even more stressful position. Assuming a seller will accept a contingent offer - and they usually won't in a seller's market - you will have the pressure of quickly finding a buyer for your current home. This might make you accept a low offer so you can meet the terms of your new purchase.
The bottom line is, there is no easy way to sell and buy. We can make the mortgage part of the transaction as stress-free as possible, but the physical act of finding a buyer/seller and moving is a full-time job. If you need a first-rate real estate agent in your area, let us know. We have a vast network of talented, experienced agents.
Do you plan to keep your current residence as a rental property after buying a new home?
If you plan to keep your current home and convert it to a rental property the lenders have several requirements.
The property you are departing must have at least 30% equity. For example, if you owe $700,000 on your home, it must be appraised for at least $1,000,000.
The lender will require an appraisal on the departing property.
In order to use the future income from your departing residence, you must have a signed lease and proof of receipt of a security deposit.
75% of the lease amount will be added to your income for qualifying purposes.
Give us a call and we'll talk it through with you. Buying a new home shouldn't become your full-time job. Entertainment Mortgage has many products and solutions for you.