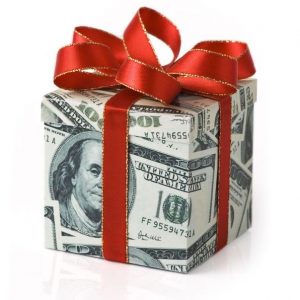 Using gift funds for your downpayment? For first-time home buyers, the lack of down payment is among the greatest roadblocks.
Family members willing to pitch in financially are a boon to getting into a home sooner than it would happen otherwise. In fact, 25 percent of first-time homebuyers used cash they received as a gift for a down payment. But before you make a beeline to the bank with a check from Mom and Dad, it's important to observe the proper guidelines of using gift money as part or all of your down payment.
Part of the bank's examining your loan application is questioning where your down payment came from, putting it under a microscope before extending your loan approval.
Gift Funds – the good news is . . .
the help you get from family members is not limited to parents only. Anyone in your family (including stepparents grandparents, aunts and uncles) may give you the money for a down payment. How about close friends? Lenders are less inclined to allow you to use financial gifts from non-relatives unless it's a fiancé.
All those funds you raised as wedding gifts – as long as it has been in your bank account for the past 60 days, the lenders won't question where it came from. You should deposit any of that type of gift as soon as you receive it.
Speaking of gifts, remember the definition of that word. What you receive should not be considered a loan or some kind of barter deal.
If you plan to use gift funds as down payment money, let us know as soon as possible in the application process. We can guide you in the proper procedure. Many lenders prefer it is wired directly from the giver into escrow. Others want it to come from the buyer's bank account.
In any event, the donor(s) will have to fill out a form gift letter stating that the money is a gift and not a loan.
Let us know if you have any questions. We're always here to help.