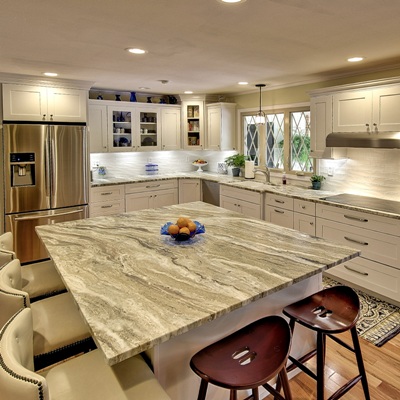 If you're thinking about doing a kitchen remodel…
spend time thinking it through carefully. If you plan to move in the next five years or so, be sure to keep in mind how your upgrades will appeal to buyers.
Remodeling your kitchen has the potential to add the greatest value to your home for the money spent. Before you move forward, however, take into consideration the style and age of your home.
If you own a 1900 Craftsman home, be sure your updates fit in with the style of your home. A stark modern kitchen, all stainless and glass, can actually damage your resale value and even the length of time on the market. Buyers who love that old Craftsman style may love a beautiful, efficient kitchen, but be sure it is designed to fit in with the rest of the home.
Kitchen Cabinets
One of the greatest expenses in a kitchen remodel is the cabinets. Consider either refinishing them or simply add new cabinet doors. Many old cabinets are very sturdy and replacing them would be a waste. By adding new doors you will change the look of the kitchen dramatically.
Paint
You may want to consider using low-VOC paint. It makes the kitchen more eco-friendly and helps you avoid breathing in dangerous chemicals.
Countertops
If your kitchen isn't large, consider using ready-cut slabs of granite or marble. They will only be seamed between slabs. Using stone tiles looks cheap because of the many grout lines but with slabs, the lines are minimal and the savings huge.
Appliances
Of course, you're going to replace some, if not all of your appliances. What is a kitchen remodel with new appliances? Here is a list of the best times to buy:
September and October (except refrigerators) – this is when manufacturers unveil their latest models. Save money by buying last year's offerings.
May – Refrigerators
January – this can be one of the best times to buy. Last year's models which were discounted when the newest versions came out in the fall, will be discounted even further.
Holidays – Holiday sales are legendary. These are always a good time to buy.
If you're like me, you'll research everything online first. This way you'll be able to take your time comparing features of different models and price comparisons.
A word of caution from personal experience. In this digital world, be sure you learn how to use your new appliances before you have a dinner party. I bought all new appliances right before Thanksgiving. It took me longer to figure out the fancy features than it did to cook the meal.?
What will it cost?
A kitchen remodel can cost you upwards of $75,000 but you can do it for a lot less. It depends on how extensive a remodel you plan to take on. The fewer plumbing, electrical and gas lines you relocate, the less you'll spend. Be sure to get your bids first. Once you have your budget set, add a minimum of 10%. A minimum! That's the industry standard but I personally would add 20%. You never know when you'll discover a major electrical conduit running through the wall right where that new window will go. Plan for the unexpected and you won't be so stressed when it happens.