One of the questions that are always asked of Real Estate Agents and Mortgage Professionals is "should I buy, or wait?" There is so much press about falling rates, rising rates – falling prices, short sale nightmares and on and on . . . Buyers are confused and looking to professionals for guidance.
What better way to answer than with cold, hard facts?
Let's look back to January, 2011. Where were prices and interest rates?
Even though rates are down, prices are up.  Take a look at this illustration.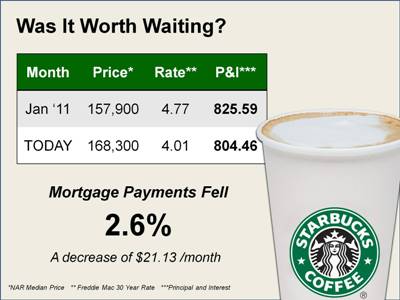 Based on this, buyers would have been better off waiting – for a savings of 2.6%. Wow! This will buy a starbucks a day (or maybe two a day for a larger loan amount.)
But wait!
Rents are up 5.9% since January.
What happened to the savings?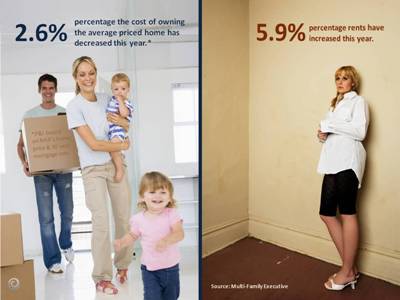 Next time someone askes if they should buy now or wait, you have your answer.