For those of you who like me are visual, I'm posting a simple graph that shows what the mortgage backed securities have done since May 12.  They hit their low point on May 14. Don't forget, rates move inversely with the price of the security so you can see how dramatically they have shifted in this short window of time.
Yesterday and today however, they have moved strongly in a positive direction for those of you waiting to lock your loans.  So keep watching next week and let's all hope for the best.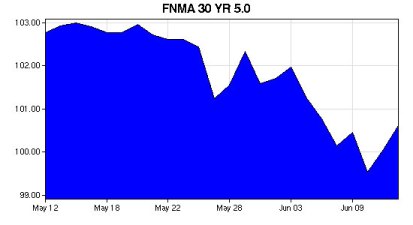 If you don't have a clue what you're looking at, call or email me.  Or at the very least, leave a comment.