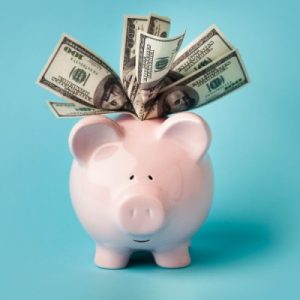 I usually don't put share links to apps that I love, but in this case, it can help you when you're saving for a down payment – really. I use it myself. When the market last year skyrocketed in the early months then took a nosedive at the end of the year, I still did well.
To be honest, it wasn't me – it was the fund managers behind this app.
Here's how it works. In some small ways, it's similar to BofA and Wells' Keep the Change programs, where every time you buy anything, the change, rounded to the nearest dollar, goes into a linked savings account at the same bank.
But this app offers so much more.
First, you link whatever account or multiple accounts you want to, and it rounds up the spare change. You can even link your credit cards. You also have the option of multiplying all that spare change by 2x, 3x, or 10x. Even though the change may not seem like much, you won't believe how fast it adds up, and how little you feel it leaving your checking account. Instead of letting the spare change sit in a dead savings account as the banks do, your money is deposited in a group of mutual funds. More about that later …
If you are serious about savings, add a recurring transfer from one of your bank accounts. The app will automatically add any amount you tell it to; daily, weekly or monthly.
You can also make a single, one-time addition at any time. Get a tax refund? Add it to your portfolio.
Wait! There's even more.
They have "found money" partners. What "Found Money" is, whenever you buy something from any of these 100+ partners, (everything from Enterprise Car Rental (2%) to Liberty Mutual ($5) to Neiman Marcus-3%) an additional percentage or flat dollar amount is automatically deposited into your account. You don't do anything – it happens automatically if you happen to shop at any of these 100+ partners.
I get Bark Box monthly for
Gracie. One day I noticed that every month when her Bark Box arrived, money was added to my portfolio. I didn't realize it for months. I didn't even know Bark Box had become one of their partners.
The reason I chose this as a place to put my money is the principals behind the app and their choice of investment vehicles. The money goes mostly into Vanguard Funds and some in BlackRock. Years ago, when I was a stockbroker and learned about investing, most of my own non-real estate investments were in Vanguard Funds, my fund manager of choice.
When using this app as you're saving for a down payment, you can choose from 5 different levels of risk, from risky to conservative. Whatever level you choose (and you can easily change it anytime), you will be in 8-12 funds at any given time. And they don't just park it there. As the market changes, they move the money around to take advantage of changes in the market. They have an interactive graph so you can view what your portfolio should total over different periods of time based on the 5 different levels of risk and your average monthly deposits.
Last year when the stock market soared to its highest point even, then tanked and lost ALL its gains, I still came out ahead, by doing nothing.
The best part is, you won't even miss the money.
Even after I changed to 10x the "round-ups", I didn't feel it and it added up amazingly fast! I'm talking thousands, not hundreds.
Depending on how much money you can squeeze out of your paycheck each month, you'll have that down payment before you know it.
Here's the link. Sign up through this link and they add $5 to your account and my account. You can view it on your computer or your iphone or android. Their website will tell you a lot more.
Just do it. When you're saving for a down payment, you'll be glad you did – and so will I – so I can get your pre-approval letter ready for your new mortgage and your new home.