Most of you know that I'm pretty much of a geek when it comes to gadgets and toys. These new Sony 3-D HD binoculars are amazing.  and I can't help but think they might be great on a film set.
With four-figure price tags, Sony's DEV-3 and DEV-5 digital recording binoculars, which are due to hit stores in November 2011, are not likely to appeal to everyone. Sony is marketing them mostly to nature lovers, (ie rich bird watchers) and technophiles or the person who has everything, but I can't help but think they might be great on a film location.  The ability to capture in 3-D precisely what you see through the lenses could come in very handy.
Now for some tech talk:Â 
The DEV-3 and DEV-5 models feature 10x and 20x maximum magnification, respectively, and both models come with HD; 3-D Exmor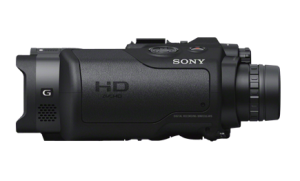 R™ CMOS Optical SteadyShot for steadier, clearer images at high magnifications; dual electronic viewfinder; and HDMI for transmitting uncompressed digital data.  The smooth zoom control and auto focus both help ensure that your subject stays sharply in focus, but unlike with regular binoculars, you can digitally capture exactly what you see as HD video or still photos.  Simply connect to an HDTV or PC and you can either replay your footage or transfer images.
And besides, it's getting close to that gift-giving time of year.