For all of you who are thinking of selling your home, read on. This is a great story that was reported in the "Wall Street Journal".
It seems that the person who founded the original forsalebyowner.com put his house on the market this year. Well let's go over a little bit of history. He founded the site forsalebyowner.com back in 1999. He sold it in 2006 to the Tribune Interactive. It was for an undisclosed amount. No one knew for sure what the terms of the sale were. But I can tell you a few months later that founder bought an apartment in New York City for $2 million so I guess he did okay on the sale.
Fast forward four years to today, he tries to sell the apartment in New York City and he does what he's always told people to do – For Sale By Owner it; FSBO it. The only challenge is he couldn't get it sold.
It wound up that the founder of forsalebyowner.com reached out, hired a broker at a full commission to sell his apartment in New York City.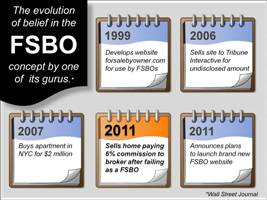 And one of the most amazing things in this story is the fact that when the broker came in he said, "Well part of the challenge that you have is it's not priced right." "It should be more money attracting a higher client." The broker came in, raised the price by $130,000.00 and sold it at the higher price after the owner, founder of forsalebyowner.com, failed doing it as a FSBO.
That's funny enough in itself, but in the article in the "Wall Street Journal" the seller announced that he's about to launch a brand new FSBO website. He made his money convincing people they should FSBO. When his property came up for sale he got a broker, paid them a full commission, and got more money than he was trying to sell it for. And once he got that money he announced he's launching a new website for people to do FBSO's.
For anyone who wants a copy of this graphic, you can get it here. For all you realtors out there, feel free to use this in your listing presentations.